Clinical Trial
AACR 2019: Successful maintenance therapy for BRCA-/PALB2-mutated pancreatic cancer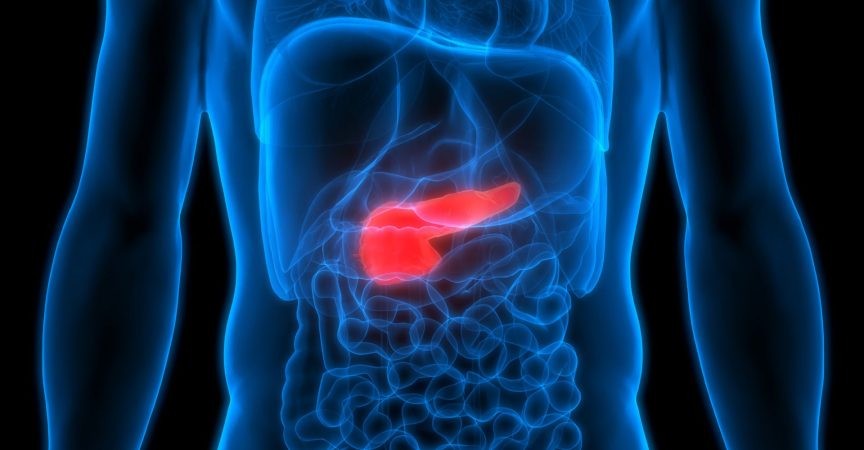 Results of a phase II clinical trial suggest that the PARP inhibitor rucaparib can stabilize and in some instances even improve disease of patients with somatic or germline mutations of BRCA1, BRCA2 or PALB2.
5–8 percent of patients with pancreatic cancer have pathogenic mutations in BRCA1, BRCA2 or PALB2 that may either arise in the germline or occur somatically. Mutations in these genes often coincide with increased sensitivity towards platinum-based chemotherapy. The current therapy standard is therefore a maintenance therapy of platinum-containing chemotherapy regimens. Prolonged treatments are, however, associated with cumulative toxicity, so this approach often becomes unsustainable.
Application of PARP inhibitors
PARP inhibitors have activity in multiple BRCA-induced cancer types, an example of which is the maintenance therapy of platinum-sensitive ovarian cancer. Rucaparib is a substance of this class, and is approved as a maintenance treatment for patients with recurrent ovarian, fallopian tube and primary peritoneal cancer who respond to platinum-based therapy. A clinical trial presented at the AACR Annual Meeting now suggests that rucaparib might also be feasible for BRCA- or PALB2-mutated pancreatic cancer.
The ongoing single-arm phase II clinical trial will be conducted in 42 patients with advanced platinum-sensitive pancreatic cancer with confirmed somatic or germline mutations of BRCA1, BRCA2 or PALB2. More than 80 percent of patients evaluated so far are women, the median age is 61 years. Patients receive a platinum-containing chemotherapy for at least four months. Subsequently, patients are treated with 600mg rucaparib twice daily as a single agent until disease progression or unacceptable toxicity. Primary endpoints of the study are progression-free survival and overall response rate.
Good response, few side effects
In the interim analysis presented recently, the data of 19 patients were evaluable for PFS. In those, maintenance therapy with rucaparib with prior induction chemotherapy achieved a reduction of the tumor volume in 41.1 percent of patients – with no drastic side effects.
One patient had a complete response. The disease control rate, consisting of complete and partial response, and stable disease for at least eight weeks, was 89.5 percent. Eight patients remained on therapy for at least six months, two have been receiving rucaparib for more than one year.
Side effects were generally mild. The most common treatment-related adverse effects included nausea, dysgeusia (a distortion of the sense of taste) and fatigue. No grade 3–5 adverse effects were seen in the trial. »Although this is very preliminary data, the fact that we're seeing sustained clinical responses in some of these patients is very exciting," first author Kim Reiss Binder, MD, assistant professor of medicine in the Division of Hematology Oncology at The Hospital of The University of Pennsylvania, noted. »Several patients had complete or partial responses with rucaparib treatment, suggesting that this therapy has the potential not only to maintain the disease, but also to shrink the tumors in some instances," she added. As a limitation she noted that the here presented interim analysis was unplanned: »The study is still ongoing, the results require substantial further validation."
Mutations to be tested broadly in pancreatic cancer
Instead of applying chemotherapy in a maintenance setting that leads to cumulative toxicity, this study proposes to limit chemotherapy to four months, and then begin a maintenance therapy with rucaparib. Reiss Binder suggests to test patients with pancreatic cancer for BRCA- or PALB2-mutations to identify the candidates that would benefit most probably from this therapy.
Rucaparib is therefore one of two agents that seem successful in the BRCA-mutated group of pancreatic cancer. At the end of February 2019, successful results of the randomized, double-blind phase III clinical trial POLO were announced showing that the PARP inhibitor olaparib may improve progression-free survival of patients with platinum-sensitive tumors and germline mutations of BRCA in a clinically significant fashion.
Reference
Reiss Binder KA et al., A Phase II, single arm study of maintenance rucaparib in patients with platinum-sensitive advanced pancreatic cancer and a pathogenic germline or somatic mutation in BRCA1, BRCA2 or PALB2. Abstract CT234

More from this topic:
AACR 2019
Even more from this topic