AACR 2019: Patients with high-grade neuroendocrine carcinoma benefit from immune checkpoint inhibitor combination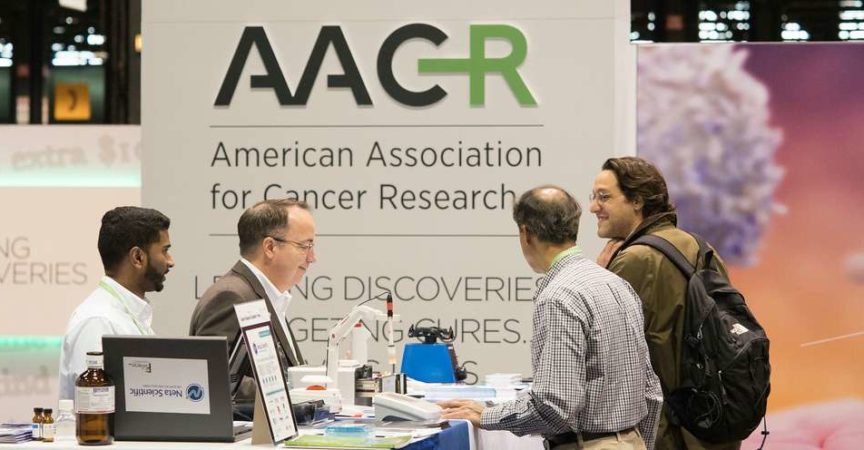 For patients with high-grade neuroendocrine carcinoma, therapy options are currently limited to aggressive chemotherapy regimens. Results from a phase II clinical trial presented at the AACR Annual Meeting 2019 demonstrate that the combination of nivolumab and ipilimumab could be efficacious in this tumor type.
The aim of the Dual Anti-CTLA-4 and Anti-PD-1 Blockade in Rare Tumors clinical trial is to evaluate the combination of the immune checkpoint inhibitors nivolumab and ipilimumab across multiple cohorts of rare tumors. A full list of cancer types investigated in the study can be accessed here. At the American Association for Cancer Research (AARC) Annual Meeting, promising results were presented for patients with neuroendocrine tumors, especially those with high-grade disease.
The prospective, open-label, multicenter phase II clinical trial DART included, amongst other tumor types, 33 patients with neuroendocrine tumors. They were treated with a combination therapy of ipilimumab (1mg/kg every six weeks) and nivolumab (240mg every two weeks) until disease progression or the onset of unacceptable toxicity. The most common tumor sites were gastrointestinal (non-pancreatic, n=15; 45 percent) and lung (n=6; 18 percent). The results for patients with pancreatic neuroendocrine tumors are currently being analyzed in a separate cohort for which the results are expected at the end of 2019. 19 (58 percent) of patients had high-grade disease. Patients had undergone a median of two therapy lines.
Overall response rate of 24 percent
In the cohort of 33 patients, eight had a complete or partial response, the primary endpoint of the overall response rate was thus 24 percent. One patient had a complete response (3 percent), seven had a partial response (21 percent). All patients responding to therapy had high-grade disease. Of the 14 patients with low- or intermediate-grade tumors, no patient responded. During their presentation, the authors speculated that the good response of high-grade tumors might be related to higher tumor mutational burden in this group; a higher mutational burden is an indicator of response to immunotherapy also in other tumor types. Secondary endpoints included progression-free survival (30 percent after 6 months) and median overall survival (11 months). The most common treatment-related adverse events were fatigue (30 percent of patients) and nausea (27 percent of patients). Amongst immune-related adverse events, the most common was a rise in grade 3 and 4 alanine aminotransferase (ALT) (9 percent). No grade 5 treatment-related adverse-events were observed.
Important new therapy option
»We were pleased to see that patients with high-grade neuroendocrine carcinoma derived benefit from a combination of the two immune checkpoint inhibitors in the DART trial," first author Sandip Patel, MD, Moores Cancer Center der University of California, La Jolla, said. »Given that current treatment options for patients with high-grade neuroendocrine carcinoma are generally limited to aggressive chemotherapy regimens, this is an exciting finding for this patient population." As a key limitation of the study Patel mentions the lack of a central pathology review, which was due to the study design.
Study design helped in patient accrual
»Rare tumor types, as an aggregate, represent nearly a quarter of all cancers. Our study highlights the feasibility of performing clinical trials among patients with rare cancers, and hopefully will help dispel the belief that clinical trials are not feasible for this patient population," Patel explained. He suggests that an advantage of the DART trial was that patients were treated in local centers, which was convenient for participants and facilitated their accrual.
Patel SP et al., A Phase II basket trial of dual anti-CTLA-4 and anti-PD-1 blockade in rare tumors (DART) S1609: The neuroendocrine cohort; Abstract CT039

More from this topic:
AACR 2019
Even more from this topic