ESMO 2018: Immunotherapy may become new first-line therapy for MSI-high mCRC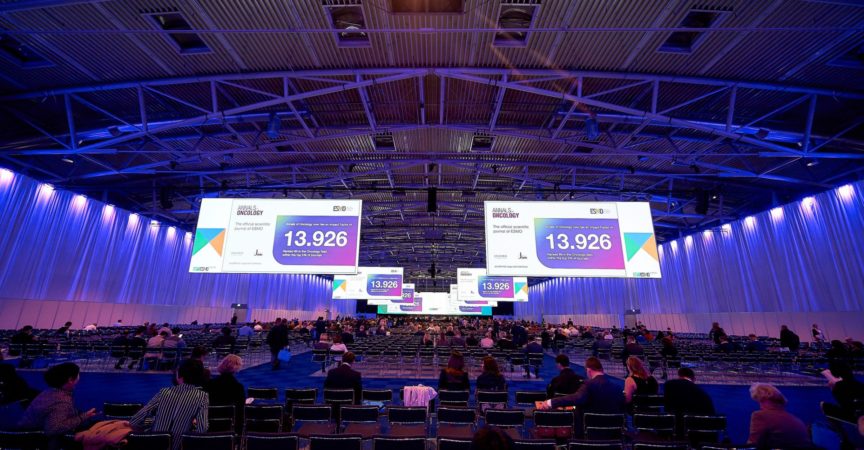 For the first time, a phase II trial shows a clear benefit for a first-line immunotherapy in patients with metastatic colorectal cancer with high microsatellite instability.
First-line immunotherapy with nivolumab and low-dose ipilimumab achieved an objective response rate of 60 percent, including 7 percent complete responses in metastatic colorectal cancer (mCRC) with high microsatellite instability (MSI-high). This was demonstrated by the phase II trial CheckMate-142, which was presented as late breaking abstract at ESMO 2018. High microsatellite instability occurs in about 4% of metastatic colorectal cancers.
First line in metastatic colorectal cancer
The study enrolled 45 patients with a median age of 66 years. The median time to response was 2.6 months. Both median progression-free survival (PFS) and overall survival (OS) were not reached after a median follow-up of 13.8 months. The 12-month PFS and OS were 77 and 83 per cent, respectively.
Combination of low-dose ipilimumab with nivolumab resulted in a lower toxicity rate compared to that in studies using a higher ipilimumab dose. 16% of patients had Grade 3/4 adverse events and 7% discontinued therapy due to treatment-associated adverse events.
Study author Prof Heinz-Josef Lenz, Co-Leader of the Gastrointestinal Cancers Program, University of Southern California Norris Comprehensive Cancer Center, Los Angeles, US, stated: »The data suggest that nivolumab and ipilimumab may be a first line treatment option for these patients."
Commenting on the results for ESMO, Prof Thierry André, Head of Medical Oncology, Hôpital Saint-Antoine, Hôpitaux de Paris, France, said: »Patients improve dramatically and some return to work. This is in contrast to other metastatic cancers (melanoma, lung or kidney) where it is more difficult to select patients who benefit from immunotherapy."
André adds: »Another question is whether the combination of nivolumab and ipilimumab is superior to nivolumab alone for the first line treatment of patients with MSI-high metastatic colorectal cancer. Previous results from CheckMate-142 suggest, with indirect comparisons, improved efficacy with nivolumab plus low-dose ipilimumab relative to nivolumab alone in previously treated patients with MSI-high metastatic colorectal cancer."
He also points out that the European Medicines Agency (EMA) will probably require a randomised phase III trial. The ongoing phase III KEYNOTE-177 study in MSI-high metastatic colorectal cancer is comparing first line treatment with pembrolizumab versus chemotherapy with or without targeted therapy; the first results are expected for 2019.
Source: ESMO Congress 2018
Lenz H-J et al., Durable clinical benefit with nivolumab (NIVO) plus low-dose ipilimumab (IPI) as first-line therapy in microsatellite instability-high/mismatch repair deficient (MSI-H/dMMR) metastatic colorectal cancer (mCRC); ESMO 2018; LBA18_PR

Weitere Beiträge zum Schwerpunkt:
Immuno-Oncology - ESMO 2018
Zum Schwerpunkt