ESMO 2018 Immuno-Oncology
Breakfast Brief: More lung cancer news
PD DDr. Sacha Rothschild from Universitätsspital Basel, reports about highlights, but also some disappointing news from day three of ESMO Congress 2018.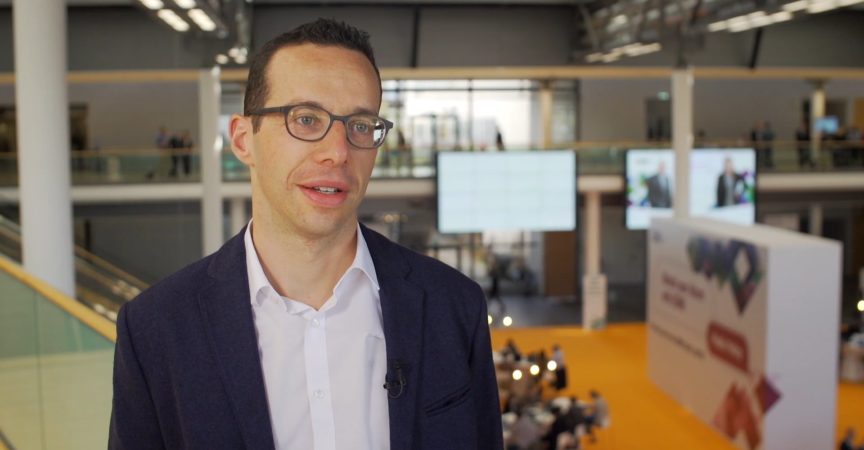 An update of the PACIFIC trial, shows a clinical benefit for durvalumab compared to placebo, regardless of the time from radiotherapy to randomization (within two weeks vs later).
Preliminary results of NEOSTAR, a phase-II trial evaluating neoadjuvant nvolumab or nivolumab/ipilimumab in resectable NSCLC patients, confirmed a major pathologic response rate of 26%, with a trend towards less viable tumor after the combination therapy.
The final analysis of SPLENDOUR showed that there is no improvement of the overall survival for denosumab when added to standard first-line platinum-based chemotherapy.
Results from the IFCT-1603 Trial are proving again that small cell lung cancer (SCLC) remains difficult to treat and that immune checkpoint inhibitors have no role in the treatment of these patients. The Swiss SAKK 15/12 trial investigated if a prophylactic cranial irradiation concomitant with chemotherapy and thoracic radiotherapy has an impact on neurocognitive function and clinical outcome in patients with a limited disease SCLC.
PD DDr. Sacha Rothschild presenting in his Breakfast Brief following abstracts:
#1667PD: Vees H et al.: Impact of early prophylactic cranial irradiation with hippocampal avoidance on neurocognitive function in patients with limited disease small-cell lung cancer. A multicenter phase II trial (SAKK 15/12)
#1385PD: Peters S et al.: A randomised phase III trial evaluating the addition of denosumab to standard first-line treatment in advanced NSCLC – the ETOP and EORTC SPLENDOUR trial
#1363O: Faivre-Finn C et al.: Efficacy and safety evaluation based on time from completion of radiotherapy to randomization with durvalumab or placebo in pts from PACIFIC
#LBA49: Cascone T et al.: Neoadjuvant nivolumab (N) or nivolumab plus ipilimumab (NI) for resectable non-small cell lung cancer (NSCLC)
#LBA48_PR: Zhong W et al.: CTONG 1103:Erlotinib versus Gemcitabine plus Cisplatin as Neo-adjuvant Treatment for Stage IIIA –N2 EGFR-mutation Non-small-cell lung cancer (EMERGING): a Randomised Study
#1664O – A randomized non-comparative phase II study of anti–PD-L1 ATEZOLIZUMAB or chemotherapy as second-line therapy in patients with small cell lung cancer: Results from the IFCT-1603 Trial

More from this topic:
Immuno-Oncology - ESMO 2018
Even more from this topic