Presidential Symposium 1
ESMO 2018: Immunotherapy to improve outcome of triple-negative breast cancer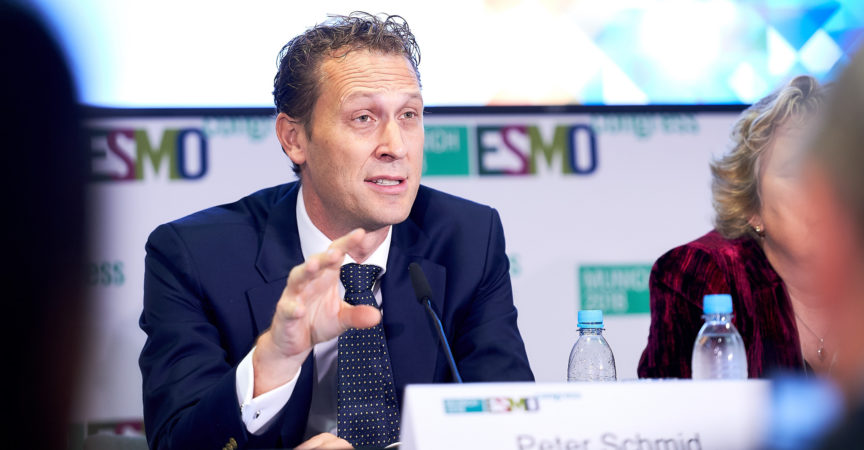 In this year's ESMO's first Presidential symposium, for the first time a survival benefit for patients with breast cancer treated with immunotherapy could be demonstrated.
The randomized phase III trial IMpassion130 enrolled 902 patients with metastatic triple negative breast cancer. After a median follow-up of 12.9 months, patients treated with a combination of atezolizumab and the standard chemotherapy nab-paclitaxel reached a significantly longer overall survival (OS) of 21.3 versus 17.6 months compared to standard chemotherapy alone. In the subgroup expressing PD-L1 in tumor-associated immune cells, OS was 25 versus 15.5 months (HR 0.62). At the time of this interim OS analysis, more than half of the patients were still alive.
The combination reduced the risk of progression or death by 20 percent in all patients and by 28 percent in the subpopulation with PD-L1 positive tumor immune cells. In the entire study population, median progression free survival (PFS) was 7.2 versus 5.5 months with chemotherapy only (HR 0.8; p=0.0025). In patients with PD-L1 positive immune cells in the tumor, the median PFS was 7.5 months versus 5 months with chemotherapy alone (HR 0,62; p<0,0001). The objective response rate was higher in atezolizumab/nab-paclitaxel treated patients, with 56 versus 46 percent in the intention-to-treat population and 59 versus 43 percent in patients with PD-L1 positive tumor cells.
In general, the combination was well tolerated, with a slightly increased rate of nausea and cough in the combination group. Most adverse events seen were induced by chemotherapy. Adverse effects related to immunotherapy were rare, with hypothyroidism being the most frequent, occurring in 17.3 percent of patients treated with the combination, versus 4.3 percent with chemotherapy alone.
First immunotherapy to improve the outcome of breast cancer
»Atezolizumab in combination with nab-paclitaxel is the first targeted treatment to improve survival in metastatic triple negative breast cancer", study author Prof. Dr. Peter Schmid, Clinical Director of London's St. Bartholomew's Breast Cancer Centre, Barts Health NHS Trust UK, said today at a press conference. »The highest advantage was found in patients with PD-L1 positive tumors, in which OS was increased by 10 months. This combination should therefore be regarded as a new treatment option for patients with metastasized, triple negative breast cancer."
Commenting on the results for ESMO, Dr. Marleen Kok, of the Netherlands Cancer Institute, Amsterdam, said: »This is the first randomised phase III trial providing evidence that adding immune therapy to standard chemotherapy increases progression-free survival in metastatic triple negative breast cancer, particularly in patients with PD-L1 positive tumours, and extends overall survival in the PD-L1 positive subgroup. While the benefit in terms of progression-free survival was relatively small, around three months, the gain in overall survival in the PD-L1 positive subgroup was impressive with a ten-month benefit. Around 40% of the tumours were PD-L1 positive. The IMpassion 130 data will probably change the treatment landscape for our metastatic triple negative breast cancer patients." However, Kok added, the question of which chemotherapy backbone to use in combination with anti-PD(L)1 therapy was still unsolved. »Many studies are ongoing that are investigating an additive effect of anti-PD(L)1 in combination with chemotherapy in metastasized and early breast cancer. We need more data to find biomarkers to appropriately select patients that will most likely benefit from this therapy."
Source
Schmid P et al., IMpassion130: Results from a global, randomised, double-blind, phase 3 study of atezolizumab (atezo) + nab-paclitaxel (nab-P) vs placebo + nab-P in treatment-naive, locally advanced or metastatic triplenegative breast cancer (mTNBC); LBA1 PR

Weitere Beiträge zum Schwerpunkt:
Immuno-Oncology - ESMO 2018
Zum Schwerpunkt