MONALEESA-7
ASCO 2019: Breast cancer – First proof of survival prolongation through CDK4/6 inhibition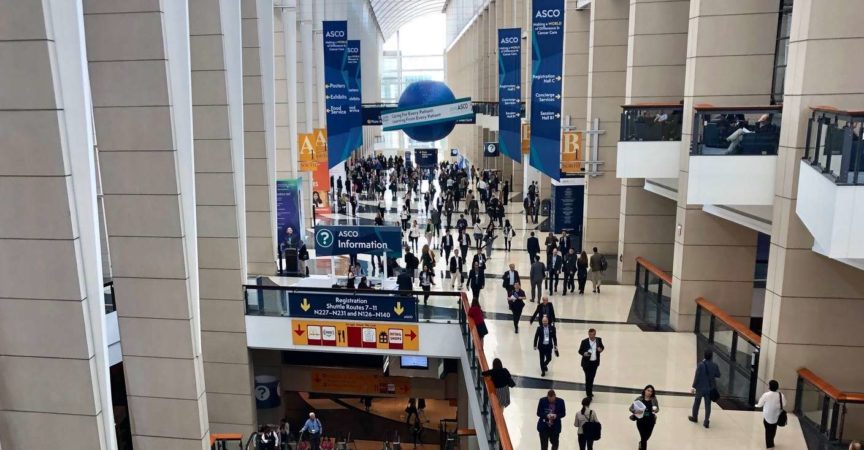 The MONALEESA-7 trial shows that therapy with a CDK4/6 inhibitor, ribociclib, improves overall survival in combination with endocrine therapy. In addition, it demonstrates that CDK4/6 inhibition is equally effective in younger women.
»This is the first time a statistically significant improvement in overall survival has been observed with a CDK4/6 inhibitor in combination with endocrine therapy in patients with hormone receptor positive advanced disease," says lead study author Sara A. Hurvitz, MD, Director of the Breast Cancer Clinical Research Program at UCLA Jonsson Comprehensive Cancer Center in Los Angeles. »Addition of ribociclib to first line endocrine therapy significantly improves overall survival – truly good news for women with this terrible disease."
Ribociclib, subsequent to its approval in 2017, was the second of the class of CDK4/6 inhibitors to be approved for HER2 negative, hormone receptor positive breast cancer. It is applied for women with advanced or metastatic breast cancer in combination with aromatase inhibitors and, since an extension of approval in 2019, also with tamoxifen as endocrine partner.
First trial to investigate a CDK4/6 inhibitor exclusively in premenopausal women
MONALEESA-7 is the first trial that exclusively evaluated premenopausal women under the age of 59 with advanced breast cancer for which they had not received prior endocrine therapy. »Compared to older women, younger women with breast cancer tend to have poorer prognosis and more aggressive behaving disease biology, even when it's hormone receptor positive. Yet, premenopausal patients were underrepresented in clinical trials," Hurvitz emphasizes.
All patients underwent ovarian suppression using goserelin and one of three endocrine therapy options: the non-steroidal aromatase inhibitors letrozole or anastrozole, or tamoxifen. Patients were randomized to receive ribociclib or placebo.
672 women were included in the study, of which after a median follow-up of 34.6 months 173 (26%) were still on therapy: 116 (35%) went on to receive ribociclib, 57 (17%) placebo.
Survival improved by 10 months with ribociclib
Women receiving ribociclib lived a median of 23.8 months without disease progression compared with 13 months for women in the placebo arm. Follow-up at 42 months revealed a survival rate of 70 percent for patients receiving ribociclib, compared to 46 percent for patients receiving placebo. This represents a 29 percent relative reduction in the risk of death.
The effect on overall survival was independent of the endocrine therapy strategy: 71 percent had a 42-month-survival with ribociclib plus tamoxifen, 70 percent if ribociclib was applied in combination with an aromatase inhibitor. The survival rate in the placebo group was 55 percent with tamoxifen, and 43 percent with an aromatase inhibitor.
The researchers will now investigate patient-reported outcomes, as well as evaluate biomarkers that might help identify women that are more likely to benefit from ribociclib therapy.
Source
Hurvitz SA et al.: Phase III MONALEESA-7 trial of premenopausal patients with HR+/HER2- advanced breast cancer (ABC) treated with endocrine therapy +/- ribociclib: Overall survival (OS) results; ASCO 2019; Abstract LBA1008

More from this topic:
ASCO 2019
Even more from this topic